Student Info
Información del Estudiante.
Estudios de inglés en Irlanda - Información del Estudiante - Clases de inglés en Irlanda
Language Xchange Ireland ofrece a los estudiantes la oportunidad para mejorar su "Business English"a través de nuestro Programa de Aprendizaje Inglés estructurado y clasificado por niveles, que consiste en cinco elementos fundamentales:
-Paquete E-Learning previo a la llegada a Irlanda
- Voluntariado en Prácticas de trabajo o Escuela de Aprendizaje de Business English o Escuela de aprendizaje de Verano o

Prácticas

o Escuela de Aprendizaje de Business English para adultos o

Prácticas de trabajo agrícolas

o Escuela de inglés Culinario
- Familia de acogida irlandesa durante la duración de la estancia en Irlanda
- Acceso eventos sociales locales


Our English Learning Programs have been designed for young people in full time education, in their gap year between school and university, or any student wishing to enhance their English language skills in an international setting.
Our English Learning Programs are suitable for individuals and student groups aged 17 years upwards. Programs are based in the South East region of Ireland and are typically 1 to 6 weeks duration.

Through participation in one of our programs you will have the opportunity to gain international business experience, and improve your English language skills, as well as enhancing your life skills through the experience of living with an Irish family.
We aim to deliver programs that are interesting and fun
and provide you with an opportunity to get to know a bit more about daily life in Ireland!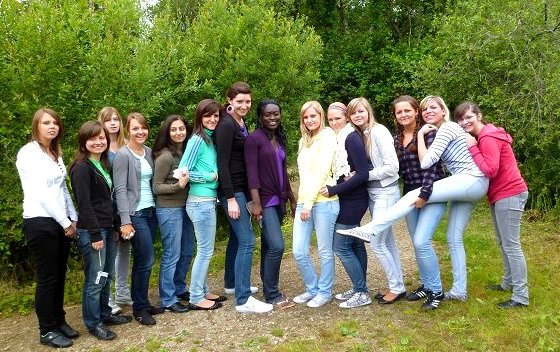 Watch a Student Testimonial Video - Learn English in Ireland - Business English Language School, Kilkenny:




WHEN YOU ARRIVE IN IRELAND

Airport Transfer

A staff member of Language Xchange Ireland will be at the airport to collect you, in order to take you to your accommodation, so there is no need for you to worry about arrival in Ireland - we will have a sign with your group name!

Accommodation

We will try to meet your accommodation requirements as far as possible in order to make your stay in Ireland more enjoyable.

Orientation meeting

Language Xchange Ireland will organise an orientation meeting for all students when you arrive in order to provide useful information to you about your stay. Students are informed of the location and time of the orientation upon their arrival in Ireland.

We look forward to welcoming you to Ireland and will do everything we can to ensure that
your time in Ireland will be an enjoyable experience for you!


PRACTICAL INFORMATION

Insurance

We advise every student to take out private insurance in order to cover you while you are in Ireland. It is important to bring a copy of your insurance and an European Health Insurance Card ( formally known as E1 11) This card provides FREE doctor, hospital and some dental services.

Luggage

You should contact the airline if you have any questions about your luggage. Usually you can take one piece of carry on luggage and one piece of check in luggage weighing 15kg to 20kg. Please check with your agency what your weight limit is. The airlines are quite strict and will charge extra if you exceed the restrictions. Remember to carry all valuables, passport etc in your carry on. In case your luggage is delayed you should also pack an extra set of clothes in your carry on luggage.

If your luggage is lost or delayed it is important to report this immediately to the airport baggage claim area. Please ensure that you are aware of all your accommodation details, so that you can give the airport personnel a forwarding address.

Clothes

It is important to take the appropriate clothes with you especially as you will be working in a professional setting. It is advisable that you carry smart clothes, including black trousers/skirt, white shirt and smart black shoes. It is important to dress appropriately in order to maintain the professionalism of your host company.

Your curriculum vitae

Please ensure that you bring some copies of your CV with you, saved on a memory stick if possible.

Important documents

Before leaving your home country, you should make photocopies of all important documents (passport, driving license etc). Leave one set of photocopies in your home country and take another set to Ireland. If you lose the originals, the copies will make replacing them a lot easier. It is essential that students upload a copy of your school insurance policy (from your teacher) onto your Language Xchange Ireland database account PRIOR to your arrival in Ireland. Students must also bring a ccopy of the policy to give to the work placement supervisor on the first day.

Mobile phone

It is advisable where possible to take your mobile phone with you to Ireland. Although it will be expensive, even to receive calls, it is important that we are able to contact you. When you arrive it might be less expensive to buy an Irish SIM card or Irish mobile phone (we can provide advice to you on the best options). We highly recommend that you bring money with you to either purchase an Irish SIM card or mobile phone. To get an idea of costs and phones available you can check out www.vodafone.ie.

Emergency money

It is important to carry a little emergency money with you (in some cases where students receive grants there may be a delay in receiving them). If you have a credit card it is also a good idea to take it with you in case of any unforeseen expenses.

Practice English

In the weeks prior to your arrival you should try to speak English as much as possible - when you arrive in Ireland you might find it a little overwhelming, but don't worry, you will be fluent in no time at all!

Voluntary Work Placement preparation

Language Xchange Ireland will endeavour to have a company chosen for you before your arrival in Ireland. Where this is the case, we strongly recommend that all the students gather as much information as possible (i.e. website etc) so that they are aware of the companies activities before they arrive in Ireland. If students have any particular requirements in relation to the companies it is important to inform Language Xchange Ireland prior to your arrival in Ireland.
The weather in Ireland is generally quite mild, however it tends to rain quite a lot
so it is important to bring warm clothes and an umbrella!